May 2021

Hello Central!
The Elders held a chilly, windy outdoor monthly meeting on May 18. We started with a forty-minute prayer session where we prayed for people who are feeling disconnected from our fellowship, marriages that are struggling, and people with health problems. Please contact an elder or the church if we can pray with and for you. We were challenged in a devotional to continue a personal refining process based on God convicting us of and us confessing our sin. As experienced by King David and written of in Psalm 32:1-5, that leads to freedom and faithfulness.

In the past we have enjoyed a meal with the pastoral team at this time of year. We would listen to them share about their ministry and personal lives and encourage them and pray with them. This year with that option not being available we received written updates from each pastor and wrote encouragement cards in response. Not the same but our pastoral team knows they are prayed for and valued by the Elders.

We have moved to fifty-person outdoor gatherings at all campuses which have been well attended. It is nice to see a few familiar faces. We wait for the day when our buildings will be alive with people again but in the meantime we appreciate the effort the ministry team is putting in to hold the outdoor gatherings.
We rejoice in the latest provincial health update indicating that we may well return to full services by September. In the meantime we will continue to provide outdoor in-person worship gatherings. We are ready to provide indoor services as soon as we are able to do so. The Elders are grateful for your continued support and patience as we work through this season of disruption and challenge.
If you have any questions about baptism or ministry partnership at Central, or feel God nudging you in that direction, please join our next class on Monday, June 7th at 6pm. You can sign up for it at Central365.org/BaptismMP.

Again, please let an elder or pastor know if you would like to pray with one of us. That is our ministry and we are eager to be faithful.
+ to find out more about our In-Person services
+ for practical needs through "Help in the time of need"
+ for prayer – submit prayer requests
+ to join one of our "Life Groups"
+ to watch our Online Services

---
For the month ended April 30, 2021, Central has a year to date deficit of $144,199. We've had revenue (giving) of $520,127 and expenses of $664,326. We have enough cash on hand to maintain operation but the margin is getting thinner each month right now.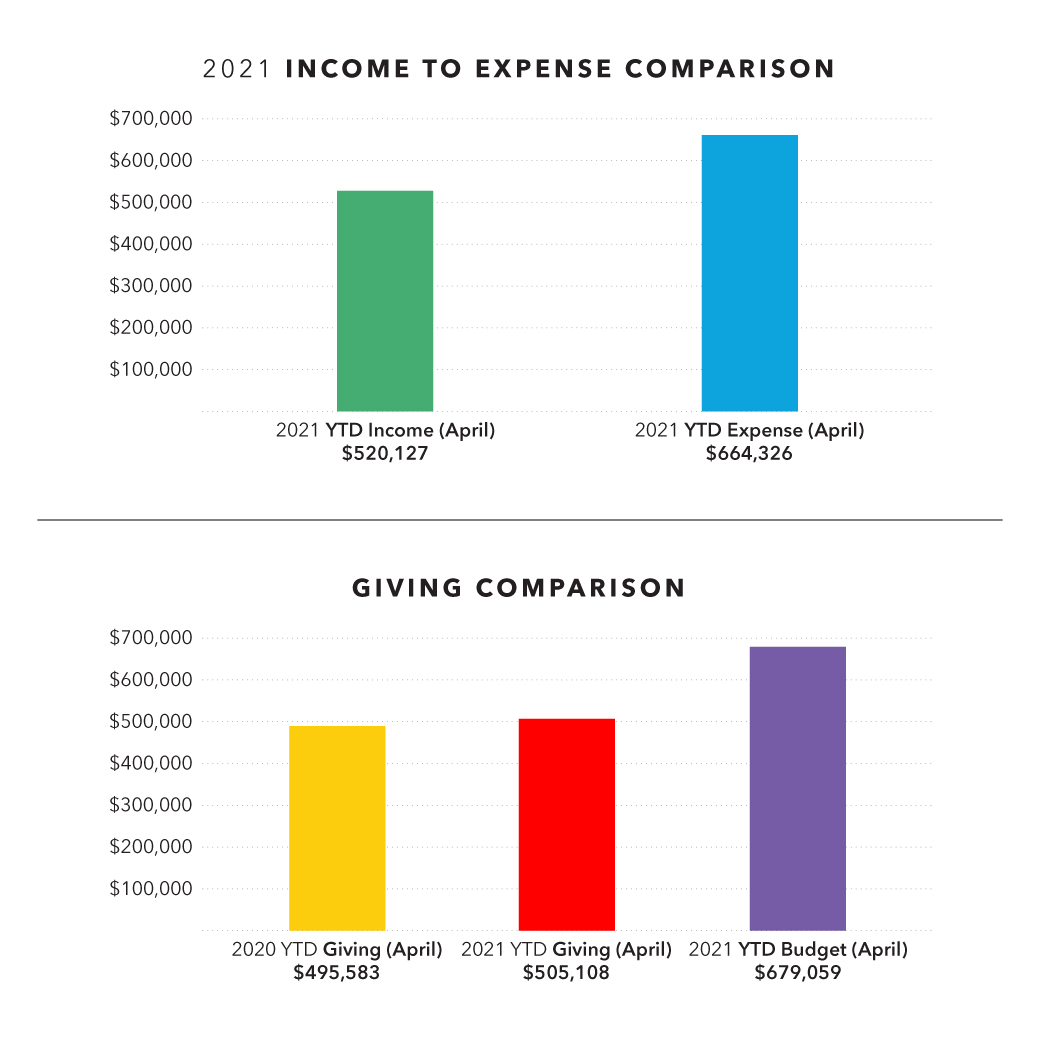 We've had some unexpected expenses related to the Chilliwack campus fire protection system and roof which has set us back by around $70,000. We knew some of this would be required but the timing has been less than ideal.

Please pray with us as this time of year is tight financially and if you are able to give that will be extremely helpful and encouraging.

Psalm 136:1 is on my heart today: "Give thanks to the LORD, for He is good, for his steadfast love endures forever."

Your brother in Christ,
---