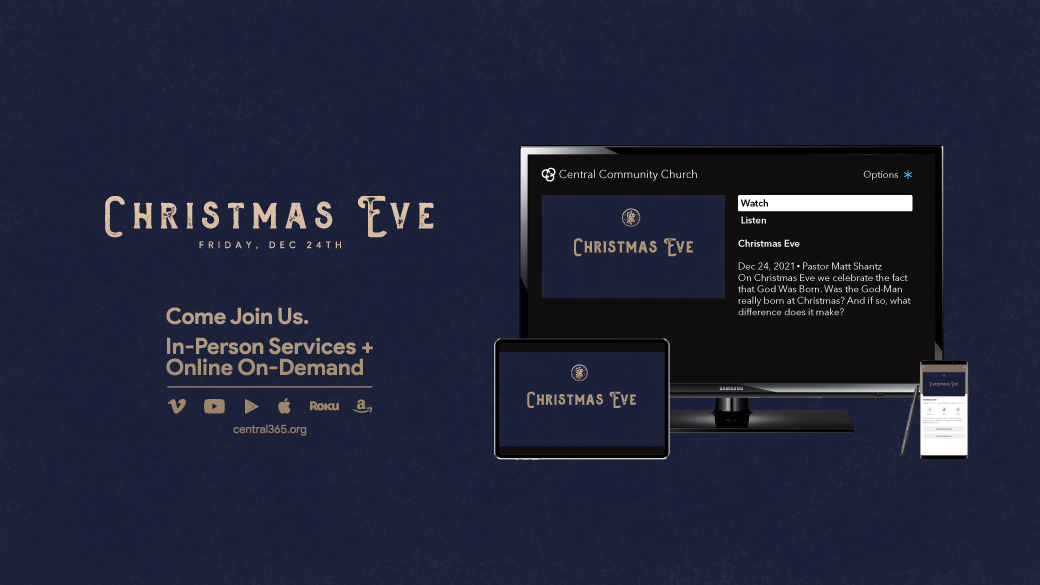 You're invited!
We would love to have you join us for Christmas Eve as we celebrate the birth of Christ. Dress however is comfortable for you and expect a one-hour service filled with carols, candlelight, and a brief Christmas message.
Recent changes to the BC PHO now require the following:
+ Masks are mandatory for all in attendance.
+ Places of worship can operate at full capacity if all participants are fully vaccinated. Otherwise, services are limited to 50 per cent of seated capacity.
To welcome unconditionally all those who wish to worship, we will be operating our services at 50% capacity. Pre-registration will be required for all who wish to attend our Chilliwack Campus Christmas Eve services for the purpose of accurate attendance counts.
CHILLIWACK CAMPUS*
46100 Chilliwack Central Road | MAP
*Pre-registration required to attend these services.
3.00PM | 4.00PM | 5.00PM | 6.00PM

Chilliwack Service Times - Registration Link

PLEASE NOTE: There will be no Kid's Ministry program at these services. Children must also be included in pre-registration for Christmas Eve services at the Chilliwack Campus.

PROMONTORY CAMPUS**
Promontory Heights Elementary School | MAP
**No Pre-registration required.
4.30PM

AGASSIZ CAMPUS**
Ag Hall, 6800 Pioneer Ave. | MAP
**No Pre-registration required.
4.30PM
LAKE ERROCK CAMPUS
Services temporarily cancelled due to flooding - please join us at the Agassiz Campus.
From all the pastors and staff of Central Community Church, we want to wish you a Merry Christmas filled with the love and hope that is found in Christ Jesus, the reason we celebrate!
December 24th | Christmas Eve
John 1:14
Pastor Matt Shantz

The goal of John's gospel is to help us answer the question, "Who is Jesus?".
John tells us that He is God in the flesh who entered the messiness of life to save us.
Can't attend an In-Person Service?
Why not join us online on-demand through one of the following channels:
+ WEB: Central365.org/WatchOnline
+ YOUTUBE: Central365.org/YouTube
+ APP: Central Community Church App (iOS | Android)
+ ROKU: 'Central Community Church'