2015 was an amazing year! Evidences of God's grace were all over the place in and through the ministry of Central. And for that we praise God!
Our Easter and Christmas Eve services had their highest attendance ever. We have more Life Groups than ever. There are more individuals volunteering at Central than ever. We had our highest giving year. Hundreds of Advent Guides, Lent Guides and Bible Reading Plans were used. We grew in our commitment to prayer and the Word.
And that's just getting started in telling the story of how God has been at work in and through Central in 2015.
PREACHING
When it comes to teaching, the most common reason that people gave for coming to Central this past year was because of our faithfulness to preaching the Bible. We praise God for the hunger and commitment our people have for God's Word. We are unwaveringly committed to preaching the Bible, text by text, and applying what it says.
See a snapshot of how God has been at work in these areas of ministry:
CHILDREN
What God is doing in Children's Ministry is simply amazing!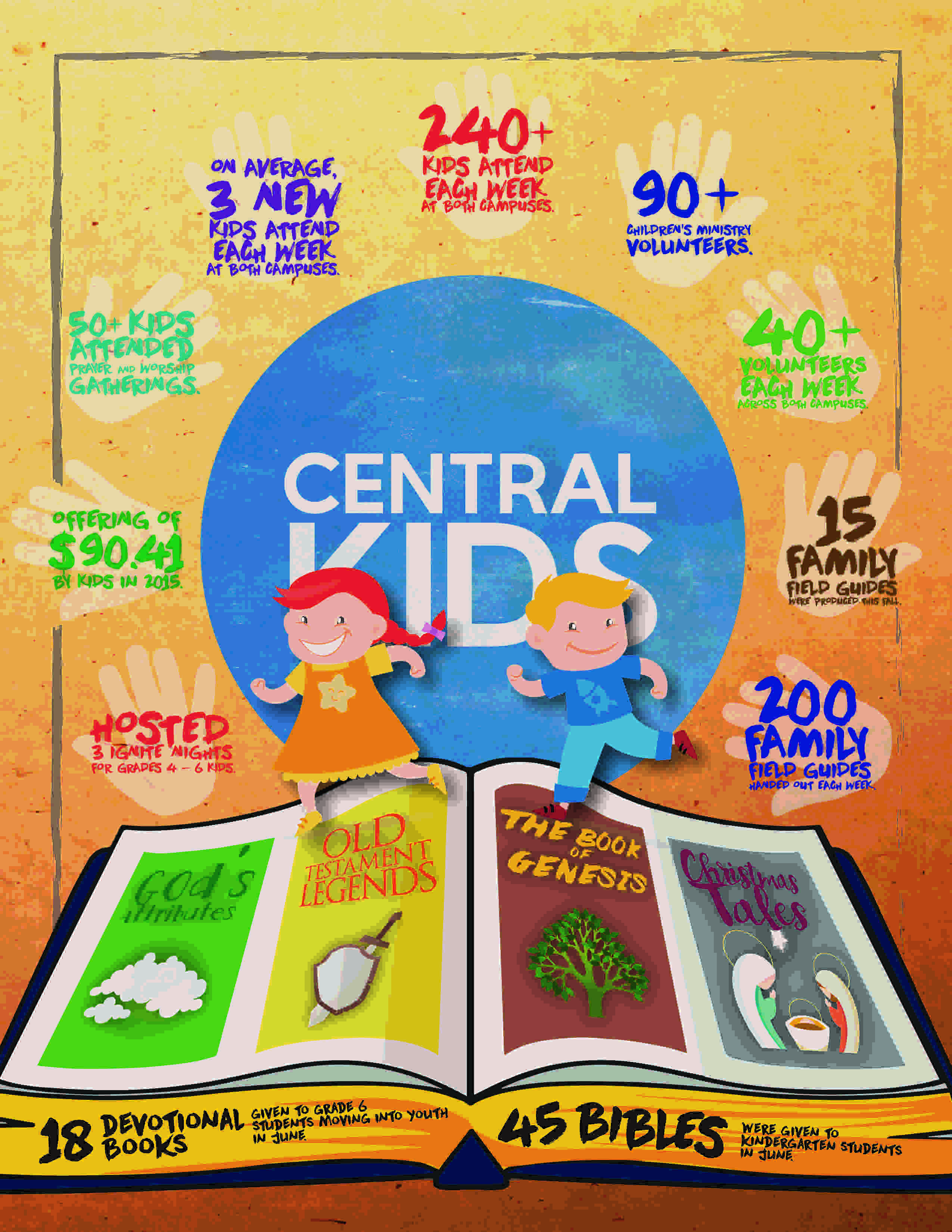 STUDENTS
The discipleship of our students is thriving!
WOMEN
There continues to be dynamic growth in the depth and breadth of our Women's Ministry.
MEN
There is little better than seeing a room full of men at 6AM reading the Word and praying together.
Ed Centre Ministry
Jesus instructed His followers to love their neighbours. Our Chilliwack campus is steps away from the Ed Centre, Chilliwack's alternative high-school. It is our privilege and joy to put on a breakfast program there throughout the year and build relationships.
Students from the Ed Centre often attend the Youth Christmas Banquet at our church and this past Spring we had the opportunity to host their graduation ceremony and reception in our building and look forward to doing that again this year.
Giving
2015 was also our highest giving year in the history of our church. In an age of consumerism and individualism, it is a testament of God's grace and commitment to the mission we are on together, that our people have given so generously and selflessly. Thank you!
In addition to our local and global general giving we were also able to support the work of the Mennonite Central Committee (MCC) on the ground with Syrian refugees and boost our support of the Cyrus Centre by pledging money for their Leap of Faith fundraiser that led to the first (and likely only) skydive of my life.
Thank you for serving, giving, growing, and for your commitment to Jesus and your church!
I invite you to do two things in response to such a fruitful year of ministry. First, praise God with me for His faithfulness and transforming work. Second, lets give ourselves to the mission of making disciples of Jesus all the more this year!
Infographics created by Heath Robertson