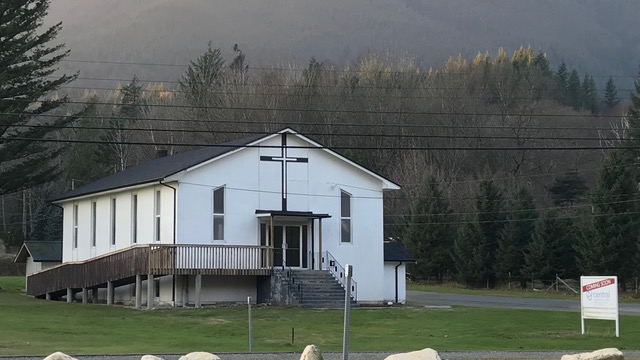 Lake Errock Campus Update
It was spring of 2017 when the Central Elders held a Vision Night, informing our congregation of the two opportunities to plant campuses that lay before us. One of those opportunities was across town in Promontory and the other was in Lake Errock, a community north of the Fraser River between Agassiz and Mission.
The affirmation of our church was overwhelming: proceed with both opportunities.
Promontory Campus Launch
We launched the Promontory Campus on Kick-Off Sunday, September 10, 2017, sending an incredible core group from our Chilliwack Campus who made up the launch team of over 50 adults and 30 kids. Over 200 people attended our Easter Sunday service there a few short weeks ago!
God provided for us the financial resources to plant the campus, the willing and able core group of people, the school that welcomed us with open arms to gather in each Sunday, and a gifted and called staff team. Jonathan (and Korinna) Neufeld came on staff as the Promontory Campus Pastor in July, and Crystal Stulp transitioned from being a Children's Coordinator at our Chilliwack Campus to being the Children & Family Director in Promontory.
It's been an incredible beginning and we look forward to many lives being transformed in the future through the gospel-witness of this neighbourhood congregation.
We praise God for His provision of resources and team members, and for the individuals and families who have become a part of the Central family because our campus in Promontory exists. It's been an incredible beginning and we look forward to many lives being transformed in the future through the gospel-witness of this neighbourhood congregation.
Lake Errock Campus Update
I mention all of that to provide clarity about the process and many moving parts in launching a new campus (for more on why we plant campuses rather than churches in our area at this time, read my 'New Campus' post on our blog). We are currently still in the process of discerning who the Lake Errock Campus Pastor will be, and a lot of other elements such as a launch team and campus launch date depend on that.
We invite you to pray with us for God's provision of a Campus Pastor
That isn't to say that progress isn't being made. A team of talented people from Central have worked hard and donated a lot of time to renovate the church building beautifully; a number of individuals from our Chilliwack and Agassiz campuses have indicated that they would like to be a part of the future Lake Errock Launch Team; and a prayer that our elders have had for over a year has been answered in the hiring of a part-time Indigenous Ministries Director who will build relationships and bridges on the reserves in the area.
John Johnstone works for the C2C Network and has family that lives on Scowlitz and Leq'a:mel, two of the three reserves in the area. As of May 1, 2018, John will be spending 1/3 of his time as our Indigenous Ministries Director, extending a hand of friendship to the First Nations communities through service, fostering relationships, and seeking to bring reconciliation wherever possible. Please join us in praying for John (and his wife Jenn).
A Bright Future
We look forward to putting on an open house at the Lake Errock building as soon as the Campus Pastor position is filled. It will also be an opportunity to pray in and for the community as well.
I want to thank the North Fraser Church folks who have made it possible for Central to come alongside, move into the neighbourhood, and share your desire to see your community reached with the love of Jesus and life-transforming message of the gospel. It's only on your shoulders that this opportunity has been afforded to us and we look forward to a bright future together.
Your faith and generosity are inspiring!
I also want to thank our Central Community Church family. Your faith and generosity are inspiring! Without your radical commitment to both, we would not be where we are: on the brink of this next stage in the great God-glorifying adventure we are on together to reach people with the gospel across the eastern Fraser Valley.

Matt Shantz
Lead Pastor