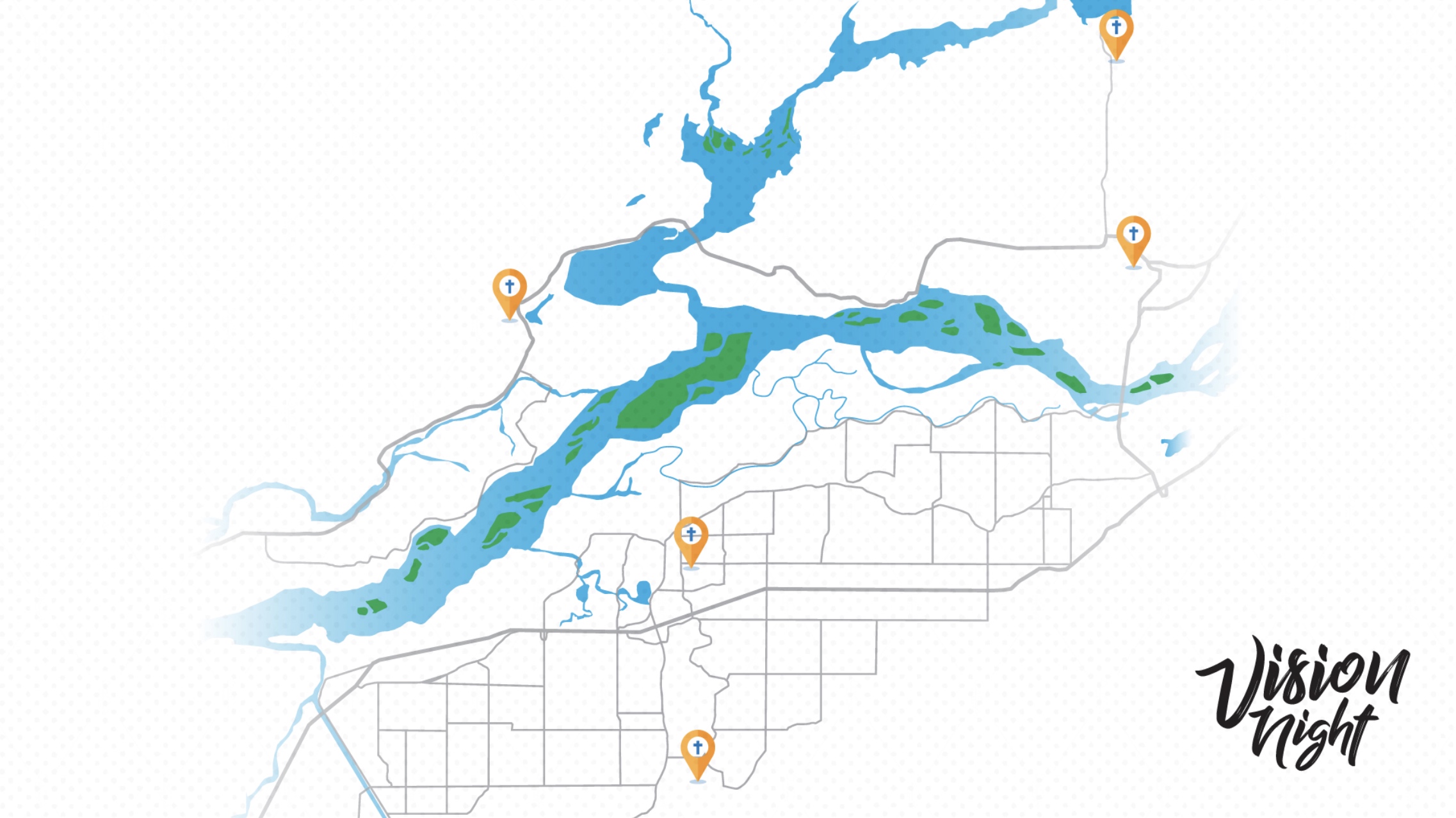 Fifth Campus Opportunity
We held a Vision Night this past Sunday, an opportunity to gather the family, explore the future, and live on mission.
You can read our Vision Night document here.
Here in a nutshell is what we talked about.
1. We celebrated what God has done through the planting of our Promontory Campus, which launched on Kick Off Sunday, September 10, 2017:
We literally could not have had a better launch team. A group of 50+ adults (plus 30 children) from our Chilliwack Campus who not only committed to going but committed to serving in a myriad of ways (from set up & tear down to greeting to children's ministry to being in the worship band).
The staff team that God has brought together to serve Promontory is such an evidence of God's grace.
We have had two baptisms and a number of Ministry Partnerships on the hill since then.
New individuals and families who live in and around Promontory have become a part of our church family, who otherwise never would have gotten connected to Central and perhaps even a church at all.
We have participated in service opportunities to bless the school and community and more plans are in the works now that we have come to discover what will meet needs and bless people there.
We had 200 people attend our first Easter service.
2. We gave an update on the progress towards planting our Lake Errock Campus.
The little church building that we inherited from North Fraser Church has been beautifully renovated and will serve to be an incredible resource as a ministry centre for years to come.
The provision of John Johnstone, our Indigenous Ministry Director, is nothing short of a miraculous answer to prayer. He started on May 1, 2018, and his 1/3 time role with us sees him creating relationships with the Indigenous population (roughly 1500 people) in that region. This aligns with our missionary vision for the area, a desire to truly be a church for the whole community there.
Likewise, the provision of Chris Battle as our Lake Errock Campus Pastor is also an answer to prayer. Chris's experience, evangelistic gifts, and passion to establish a Jesus-loving, community-engaging church there could not align more wonderfully with our vision. Chris starts in his role on July 1, 2018.
3. The elders presented the congregation with the opportunity to plant a campus of Central in Harrison Hot Springs.
Harrison Gospel Chapel, the only church in the community of Harrison, approached our leadership a number of months ago with the request that we would consider doing a replant in Harrison.
We have had a close relationship with HGC for a few years now as we have run a youth ministry in the District of Kent that functions as the youth ministry for both HGC and our Agassiz campus, as well as for community students in the district.
We recognized that this opportunity matches our vision to see the entire eastern Fraser Valley transformed by the gospel. Acknowledging that that happens through healthy, missional, local churches.
We also had some dialogue about the fact that there has been a lot of change in a short amount of time. This is not to be overlooked.
While at the same time, we recognized the fact that we have not pursued this (or the Agassiz or Lake Errock campuses for that matter) but it has been brought to us. This requires great discernment because we neither want to do it simply because it's an opportunity presented to us, nor do we want to turn down what God is orchestrating for us.
Our patient, intentional approach to launching the Lake Errock Campus is a helpful reminder that to explore and even commit to planting a campus in Harrison, does not mean we are imminently tasked with a revitalization process today or tomorrow - but in God's perfect timing.
We are committed to exploring the possibility of planting a Harrison Campus with Harrison Gospel Chapel's church building and a number of the people who are currently a part of HGC because, 1. It would be the only church in the entire community, 2. We want people in Harrison to come to Christ and grow in Christ, 3. Because it aligns with our vision to reach the eastern Fraser Valley with the gospel.
Should we proceed with taking on Harrison as a campus, we would radically shift the way we do ministry north of the Fraser. Two campus pastors would work as a team and in their giftings to provide pastoral ministry to the three campuses. Harrison's church building would also become our north fraser offices and mid-week ministry hub.
Planting campuses is merely a model. We by no means believe it is the model. But in circumstances like those in Agassiz, Lake Errock, and Harrison it provides a number of benefits:
Strong and healthy leadership. In some rural settings, it is a challenge to raise up and possess a plurality of biblically qualified elders in the church, which can lead to a lack of clearly defined vision, health, and growth. Central's growing elder team would function as one centralized eldership for the entire church, bringing on godly men from any and all campuses only as they meet the qualifications and participate in the corresponding discernment process.
Equipping the saints. One of our values at Central is not to pay the pastors to do the work of ministry but to equip the whole church to do the work of ministry (as outlined in Ephesians 4). The campus model forces us to invest heavily in discipling, equipping, and in leadership development.
Stewarding resources. Rather than five photocopiers, we would need two (one north, one south), rather than five websites we would need one, etc. And that frees up finances to invest in developing people and reaching our community and world for Jesus.
Reaching the unchurched. New churches reach new people like nothing else. Period. Dozens of denominational studies have confirmed that the average new church gains most of its new members (60-80%) from the ranks of people who are not attending any worshipping body, while churches over 10-15 years of age gain 80-90% of new members by transfer from other congregations. Incredible opportunity lies before us in being given the opportunity to plant new works in two communities that have no other churches (Lake Errock & Harrison)!
4. The congregation has been invited to give this to prayer over the coming weeks and to reach out to the elders with your questions, cautions, and affirmations. The elders emphasized that it doesn't take a few leaders to plant healthy campuses it takes the commitment of the whole church family.
The Fraser Valley consists of the cities of Abbotsford and Chilliwack, the district municipalities of Mission, Kent, and Hope, and the village of Harrison Hot Springs.
Take Abbotsford and Mission out of the equation (because they're the western Fraser Valley) and what are you left with? The communities God has given us a burden for that we have articulated in our Vision statement. Simply amazing. At this rate, we should expect to get a call from a church in Hope in about 6 months! (insert uncomfortable laughter here)
So we invite you to pray, to discern, and if God is calling us to this new work, to give us the faith and resources to do it for His glory and for the good of those in the eastern Fraser Valley.
"Unless there is the element of extreme risk in our exploits for God, there is no need for faith."
~ Hudson Taylor
It's a privilege and joy to be on this incredible adventure with you, Central.
May God get the glory,
Matt Shantz
Lead Pastor